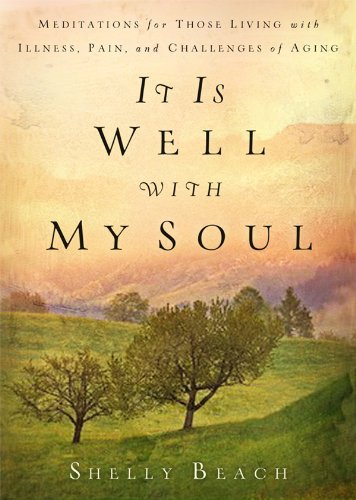 Order Now At Amazon.com

Living with chronic illness, growing older, or facing the end of life can be frightening, even for some Christians. Where do you find strength to face the reality of your pain and suffering? Who can you depend on to care for your needs? How can you cope with life?
It Is Well with My Soul is an insightful devotional designed to offer encouragement to those who are receiving care. You'll explore biblical perspectives on issues associated with some of life's most difficult stages. With engaging narrative and meaningful spiritual guidance, author Shelly Beach helps you find hope and contentment in Jesus.
This collection of brief meditations also provides prayers, reflection questions, and additional resources. Gain a deeper understanding of God's purposes in situations of suffering. Discover how you can experience His peace and have confidence in knowing it is well with your soul.
"Shelly's writings helped me not to feel so alone and to realize that others have felt the same struggles and pains which I feel daily. Thank you so much." Rhonda