Precious Lord Take My Hand – ECPA Book Award Finalist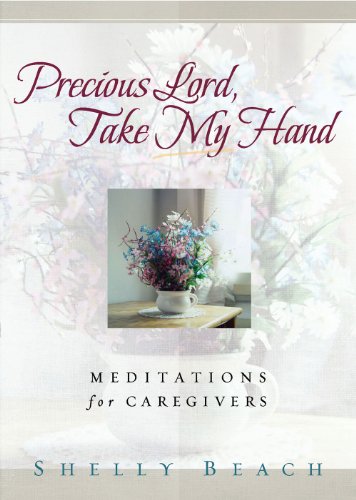 Order Now At Amazon.com

Approximately 49% of the U.S. adult population currently shoulders or soon will shoulder elder care responsibilities. For the past seven years Shelly Beach and her husband have been caregivers for their parents. At present, they have two parents living with them. What are the challenges of this kind of day-to-day caregiving, which many children are facing today as their parents age and deal with illness, Alzheimer's, and death? With her fresh and compelling style, Shelly offers devotionals/meditations based on her own life and daily experiences, providing understanding, insights, inspiration, and, yes, even laughter for anyone who is in the midst of these often difficult circumstances.
Caring Devotionals for Caregivers
Inspiration for Those with Caregiver Responsibilities and for Families of Those Suffering with Chronic Illnesses and Dementias


Enlightening, and Sometimes Humorous, Insights from One "Who Has Been There"


Prayers and Questions at the End of Each Meditation Provide Opportunity for Personal Reflection
ECPA category: Inspiration / Motivational / Devotionals
Publisher: Discovery House
Binding: 5 3/8 x 8 paperback / Page count: 160
ISBN: -57293-195-7
Endorsements
Kathi Macias
"As always, Shelly Beach's lilting prose ministered to my heart and helped me learn to take my caregiving responsibilities one day at a time—sometimes one minute at a time—and to enjoy the sweetness of God's presence along the way. Thank you, Shelly, for reminding me that we don't walk this difficult road alone."
Kathi Macias, international speaker and author of more than sixteen books including Beyond Me: Living a You-First Life in a Me-First World

Steve Siler
"Precious Lord Take My Hand is the most life-giving collection of mediations I have ever read. With profound vulnerability Shelly Beach takes us on a journey through the ordinary moments encountered on the difficult path of care-giving and in doing so teaches us about the extraordinary grace and faithfulness of God. From the sub-title I expected the book to apply only to care-giving and it does that with profound honesty and beauty. What I was not prepared for was the purpose and clarity it shined on other areas of my life. This book is a treasure."
Steve Siler
Music for the Soul

Gerald Harriman
"Precious Lord, Take My Hand by Shelly Beach is profoundly personal and insightful. Written in a complelling, concise and direct style, it reveals the compassionate, all-sufficiency of God in the issues of everyday life for the cargiver."
Dr. Gerald Harriman
Director, Harbor Hospice, Muskegon, MI

Jolene Philo
"Precious Lord, Take My Hand: Meditations for Caregivers is a must-have book for caregivers. Based on her own experiences as a care giver for her father-in-law, father, and mother, Shelly writes with humor and compassion. She doesn't sugarcoat the day-to-day struggles she faces but shows how trusting God's promises gives her strength for the day she's in. Shelly continues to care for her elderly parents, so she's not writing from the other side of the issue. She struggles just as readers do, with the frustrations of caregiving. Because her struggle is present and real, her continued trust in God to provide what she lacks is a powerful example and encouragement to others."
Jolene Philo, author of A Different Dream for My Child